Founded in 1999, Douglas & Company was created by three partners who have a combined 50+ years of experience in software development, large scale network design, UNIX system design, database design, and web design and hosting. We are incorporated in the state of California, and are a member of the San Francisco Chamber of Commerce.
Before starting our own consulting firm, we worked at a wide range of companies in both the private and public sectors, and have a strong record of applying our experience to meet our client needs.
Behind us on any given project can be found a number of programmers, design artists, and consultants that we have worked with for years.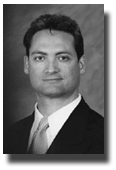 Douglas Sheppard
Founder
Mr. Sheppard has been involved with the Internet and networking since 1984. He has built and managed teams to handle software/network support, development, and installation for the Naval Research Lab, NASA Ames Research Center, Pacific Bell Internet, NorthPoint Communications, and various Internet start-ups. In addition to managing technical organizations, Mr. Sheppard has worked hands-on in the areas of software development, LAN/WAN/MAN network design and rollout, and growing teams in early stage company development.
Prior to starting his own consulting business, Mr. Sheppard managed the internal software department team at NorthPoint Communications that focused on the development and creation of enterprise applications that addressed the specific needs of teams across the organization, and integrated functions into the company's OSS.
Prior to that, Mr. Sheppard built and managed the U.S. engineering staff for the multi-national company InfoGear Networks (purchase by Cisco Systems), where he was responsible for building out a nationwide network for a line of Internet appliances. In this capacity, he had to travel between Israel and the U.S. to manage an engineering effort that had offices in two countries.
Prior to that, Mr. Sheppard built and managed the Pacific Bell Internet Dedicated team, which had the responsibility of designing the backbone for the Internet service that SBC/AT&T provides in California today. In addition to the network design and management, this team also provided software development for the Operations Center to efficiently manage the network, and also created an external customer software product for dedicated customers to access their accounts and retrieve traffic and other statistical information.
Prior to that, Mr. Sheppard managed two teams at the NAS project at Nasa Ames Research Center. First, he managed the operational WAN team that managed and rolled out a nationwide private network for NASA scientists and aviation companies (such as Boeing, Lockheed, and others) to communicate and access NASA super computers remotely. After that, he managed the development LAN team that was responsible for developing high-speed local networks including HiPPI, ATM, and FibreChannel, and developing the software drivers to increase throughput.
After college, Mr. Sheppard worked for the Naval Research Laboratory in Washington, D.C., where he lead the network engineering team in the design and rollout of a campus wide fiber optic network that used early Cisco AGS routers and FDDI connections to provide a redundant and secure high speed network for the various projects at this key Department of Defense location.
Mr. Sheppard is lead inventor for patent 7,576,517 - "System and method for remote monitoring of battery condition".
Mr. Sheppard holds a B.S./E.E. degree from the George Washington University and sits on the Small Business Advisory Council in the San Francisco Chamber of Commerce.
To learn some more about what Doug is working on, visit Doug's BLOG