Welcome to Doug's Weddings-on-the-Web !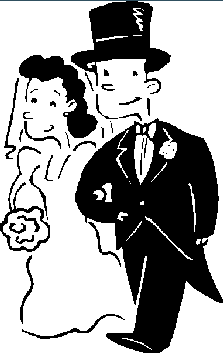 My brother, Scott, is a married man! Who would have ever thought the Ninja would get hitched? Go check out his wedding pix at GoodWeddings.com ! [6/9/2001]
How y'all doin'! Tommy and Elizabeth are gittin hitched in -- yeeeee-hawww! -- Kentucky! But the event wernt no hayride! It was quite the extravagent affair! [5/27/2001]
Well, what do you know? Doug himself got married! See the event in all its glory at GoodWeddings.com! [6/17/2000]
What do E*Beth and Jack have in common with Courtney Cox? Let's find out ! [7/10/1999]
Dave and Lori, having their own special spring break in Fort Lauderdale ! [5/16/1999]
There's something about Mary... like she's getting married ! [8/15/1998]
Come see a beautiful gathering on Green Lake ... Chris and Sara's Wedding! [7/23/1998]
Check out an event that had people flying out from all over the world. Jack and Diana's Wedding! [6/23/1998]
Finally! Pictures from John & Katie's Wedding!! [10/1/1997]
Check out Patricio & Noushin's Reception Party! [9/17/1997]
Here are scenes from John & Katie's Engagement Party!! [3/24/1997]
Check out Steve & Debbie's Wedding! [9/6/1997]
Look here to see scenes from Jonathan & Brooke's Wedding!!
Look here to check out Jonny & Brooke's Pre-Wedding Party!
---
Back to Doug!