Douglas & Company is an independent technology consulting firm specializing in Internet related projects. We are located in San Francisco, California, and believe that your needs can be better served by a small firm such as ourselves -- where you can get personal attention and very experienced consultants working directly with you and your company.
learn more

another quote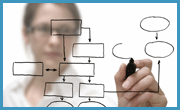 We make your business more effective through intelligent web design, enhanced backend functionality, and customized software solutions. We analyze your business processes and design web-based solutions that are tailored to your exact needs.
We take your business to the next step.
learn more